In today's fast-paced world, AI travel planning has revolutionized the way travelers seek personalized and efficient travel experiences. Amsterdam, the capital city of the Netherlands, is a charming destination known for its rich history, vibrant culture, and stunning canals. Whether you're a first-time visitor or a seasoned traveler, Amsterdam offers something for everyone. However, the timing of your visit can significantly impact your experience. In this comprehensive guide, we'll explore the various seasons, festivals, and other factors that will help you find your perfect time to visit Amsterdam while making the most of travel planning AI.
The Four Seasons of Amsterdam + AI travel planning tips
Amsterdam experiences four distinct seasons, each offering a unique atmosphere and charm. To find your perfect time to visit, let's explore the characteristics of each season and the opportunities they present.
Spring in Amsterdam
Spring, spanning from March to May, is a magical time to visit Amsterdam. The city awakens from its winter slumber, and a sense of renewal fills the air. The weather becomes milder, with average temperatures ranging from 8°C to 15°C (46°F to 59°F). As the tulips begin to bloom, the city's iconic canals come to life with vibrant colors.
AI travel planning tip: If you're a flower enthusiast, make sure to visit the Keukenhof Gardens, a short drive from Amsterdam. Travel planning AI tools can help you find the best time to explore this stunning display of tulips and other spring blooms.
Spring in Amsterdam also brings a series of cultural events and festivals. King's Day, celebrated on April 27th, is a national holiday marked by lively street parties, parades, and a sea of orange. It's an excellent time to immerse yourself in Dutch traditions.
Summer in Amsterdam
Summer, from June to August, is undoubtedly the peak tourist season in Amsterdam. The city basks in the warmth of the sun, with temperatures ranging from 15°C to 25°C (59°F to 77°F). Days are long, and the atmosphere is bustling with energy.
AI travel planning tip: To make the most of your summer visit, use travel plan AI tools to book popular attractions and skip the lines. You can also get real-time updates on weather conditions, helping you plan outdoor activities like picnics in Vondelpark or canal cruises.
The highlight of the summer season in Amsterdam is the Grachtenfestival, a classical music festival that takes place along the city's canals. Imagine enjoying a symphony orchestra performance by moonlight while floating on the tranquil waters—a truly unforgettable experience.
Autumn in Amsterdam
As the leaves start to change colors and temperatures cool down, autumn in Amsterdam offers a different kind of beauty. Running from September to November, this season showcases the city in a more serene light. Average temperatures range from 11°C to 19°C (52°F to 66°F).
Travel plan AI tip: Autumn is an ideal time to explore Amsterdam's museums and art galleries. AI travel travel tools can help you secure tickets to popular attractions like the Rijksmuseum or the Van Gogh Museum without the hassle of long lines.
If you're a film enthusiast, don't miss the Netherlands Film Festival in late September. It's a celebration of Dutch cinema and an opportunity to enjoy screenings, workshops, and discussions with filmmakers.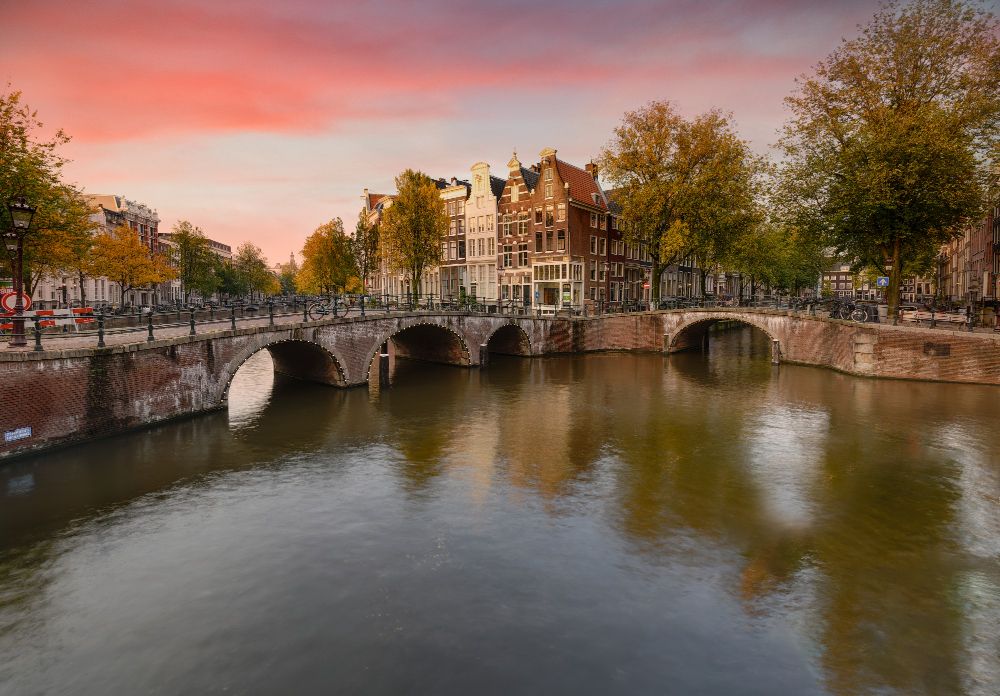 Winter in Amsterdam
Winter in Amsterdam, from December to February, brings a certain coziness to the city. While temperatures dip to 0°C to 6°C (32°F to 43°F), Amsterdam's festive spirit shines bright.
AI travel planning tip: Plan your winter visit during the Amsterdam Light Festival, which runs from November to January. AI travel tools can help you find the best dates to witness the city's illuminated canals and art installations.
The holiday season in Amsterdam is enchanting, with Christmas markets, ice skating rinks, and beautifully decorated streets. Travel planning AI can assist you in securing tickets for events like Ice Amsterdam, where you can ice skate with a backdrop of the iconic Rijksmuseum.
Festivals and Events: A Year-Round Celebration
Whether you're a fan of art, music, or culinary delights, Amsterdam has something to satiate your interests. One way to maximize your experience in this captivating city is by utilizing cutting-edge Travel planning AI. This innovative technology takes your preferences into account, ensuring your visit aligns seamlessly with your interests.
Amsterdam, a city renowned for its cultural richness and vibrant lifestyle, offers a year-round celebration of festivals and events that cater to diverse tastes and preferences. Each season unfolds its own array of captivating celebrations, providing the best time for both locals and visitors to immerse themselves in the city's spirited atmosphere.
Amsterdam Dance Event (ADE): Electronic music lovers should aim for October when ADE takes over the city, featuring world-renowned DJs and a vibrant nightlife scene. During ADE, the city transforms into a pulsating hub of music and creativity. ADE is not only a celebration of music but also a platform for industry professionals, artists, and enthusiasts to connect, collaborate, and innovate. Workshops, conferences, and panels offer insights into the latest trends, technologies, and developments within the electronic music industry.
International Documentary Film Festival Amsterdam (IDFA): It's a time for creative minds to come together or meet at the same point and share their innovative works with the world. If you're a film buff, November brings the world's largest documentary film festival, showcasing thought-provoking documentaries from around the globe.
Amsterdam Fashion Week: As the year draws to a close, the spotlight shifts to the glamorous world of fashion during the Amsterdam Fashion Week in January. This event dazzles with avant-garde designs and emerging talents, reflecting the city's evolving fashion scene. Fashion enthusiasts and industry professionals gather to witness the trends that will shape the future of style.
Tulip Festival: In the early months of spring, the city welcomes the world with the Tulip Festival. The many colors of blooming tulips make a really amazing show, attracting admirers from across the globe. This marks the beginning of the festive season, setting the stage for a delightful journey through the rest of the year. To witness Amsterdam's iconic tulips in full bloom, visit during April when the city is adorned with colorful displays.
Uitmarkt: Summer in Amsterdam Brings a lot of excitement, creativity and artistic expression during the Uitmarkt. If you're interested in Dutch culture and the arts, the Uitmarkt in August is a three-day festival showcasing music, theater, dance, and literature. This event serves as a launchpad for the upcoming cultural season, offering a glimpse into the finest performances in music, dance, and theater. It's a celebration that unites the city's artistic community and enthusiasts, igniting a passion for the arts.
AI travel planning tip: By utilizing travel planning AI tools, you can access up-to-date information on festival schedules, ticket availability, and recommendations tailored to your preferences.
Avoiding the Crowds: Tips for a More Enjoyable Visit
While Amsterdam is a beautiful destination year-round, the city can get crowded during peak tourist seasons. To maximize your experience and minimize the crowds, consider the following strategies:
Travel during shoulder seasons: Aim for spring or autumn, as these months offer pleasant weather and fewer tourists compared to the summer.
Visit popular attractions early in the day or later in the evening: AI travel planning can help you identify optimal times to explore places like the Anne Frank House or the Rijksmuseum when they're less crowded.
Explore lesser-known neighborhoods: Amsterdam is more than just the city center. Travel plan AI tools can suggest off-the-beaten-path areas that provide an authentic local experience.
Travel Planning AI: Your Ultimate Tool
Now, let's take a moment to appreciate the marvels of AI travel. In an age where information is abundant but time is limited, AI-powered travel tools have emerged as indispensable companions for modern travelers.
AI travel planning combines the power of machine learning and vast data sets to provide travelers with tailored recommendations, real-time updates, and personalized itineraries. It considers your preferences, budget, interests, and even weather conditions to craft the ideal travel plan. As you navigate through this guide, keep in mind that travel plan AI can elevate your Amsterdam experience by optimizing your schedule and choices.
Last words
Overall, Amsterdam offers a remarkable experience year-round. With the assistance of AI travel planning, you can customize your visit to match your preferences and interests. Whether you're captivated by the vibrant colors of spring, the lively festivals of summer, the serene beauty of autumn, or the cozy charm of winter, Amsterdam has something exceptional to offer. Utilize travel planning AI to streamline your trip, secure tickets to events and attractions, and ensure your visit to this enchanting city is an unforgettable adventure filled with memories to cherish for a lifetime.
So, start planning your journey to Amsterdam today, armed with the knowledge of the seasons and festivals, and the power of AI travel to make it a trip of a lifetime. Amsterdam is waiting to welcome you with open arms, no matter which season you choose for your visit.